On Saturday, Patrick and Tom L took their friends Martin B and Marcus C to the Melbourne Writers Festival. They did WordPlay@ArtPlay . The boys went to an Illustrating workshop with one of our favourite illustrators Leigh Hobbs and a Writing workshop with Doug Macleod.
Marcus and I went to ArtPlay at Federation Square as part of the Melbourne Writers Festival. We saw Leigh Hobbs and he taught us how to draw Old Tom and Mr Chicken.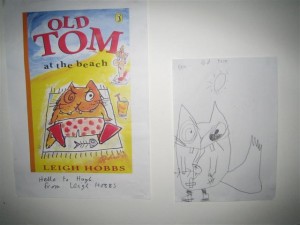 We went to a Writing workshop and we had to make up our own character and give them a problem. We made a Captain Underpants book. The problem for Captain Underpants was that he had to defeat the big fat turkey.
Tom and Marcus' story
Patrick and Martin's story
We both got a copy of one of Leigh Hobbs' new books called Mr Badger and the Big Surprise and Leigh Hobbs signed our books for us.
It was the best day ever. (Tom L and Marcus C – 1M)