The Stick Dude books by Felice Arena are popular in our LRC.  We have all of the books – Water Fight Frenzy, The Secret-Fource and Champions of the World and enjoy the adventures of Ben, Marty, Johhno and Tubs.
Some of the boys in 3BY have been inspired by Felice to draw their own Stick Dudes.  Ryan S and Sam C have been working together to draw some Stick Dude adventures.  Below are two of their Stick Dude adventures.   Great work Ryan and Sam!
 Click on the pictures to make them bigger
Stick Dude rides a skateboard
Stick Dude finds a skateboard but when he tries it out things don't quite go to plan!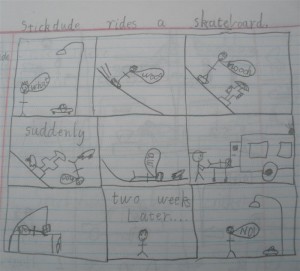 Stick Dude plays cricket
  Stick Dude is happy when he gets revenge and reads in the paper he is the best player!
Stick Dude the Acrobat
Stick Dude is not quite as acrobatic as he hopes
Olivia's Stickman adventures…
Stickman finds a helicopter hat
Stickman – Oh Granny
You can watch some Stick Dudes videos at Felice Arena's website
Why do YOU like reading The Stick Dudes?