This term we are going to have some fun reading picture books to one of our favourite picture book characters…Pig the Pug.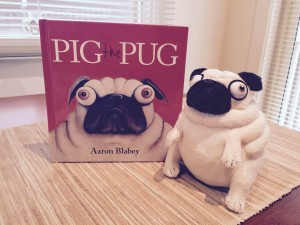 You can have the chance to take Pig the Pug home and have fun reading aloud one of your favourite picture books to him (Using expression and doing the voices!). Take a photo of you with Pig the Pug and your book to add to our slideshow and please include some information about your book and/or photo.
Pig the Pug has become quite a 'Reading Rockstar' at our school over the past two terms! He went home with 86 students in Term Two and 67 students in Term Three. Thank you for reading a picture book to Pig the Pug, sharing your photos and comments with us and making #ReadingIsFun a huge success!
Cougar Ridge Reads with Pig the Pug
Pig the Pug is now enjoying stories with the Year 3 students at Cougar Ridge Elementary in Seattle, WA in America! You can follow his reading adventures and see what he is listening to HERE