RIPPER READS

If you have read a great book and would like to tell everyone about it then this is the place!
  See Miss Yeomans BEFORE adding your Ripper Read.
Ripper Read Requirements
Title
Author
Brief summary of the story
What you enjoyed most about the book
Who you would recommend should read this book
The Power of Five series by Anthony Horowitz is an immersing read for an older audience.
The series is about five children who live different lives in different countries, who each have their own special powers – Although they don't know it. Their purpose is to save the world from the terror of ancient evil beings known as the Old Ones. In the first book of the series "Raven's Gate", the reader is introduced to the main character, and the first of the five, Matthew Freeman. The remaining children are revealed as you read through the series.
I've thoroughly enjoyed reading the series so far, and I would recommend it to anyone who likes supernatural horror.
The Power of Five… a thrilling series that has all the qualities of a great book with a storyline that could go anywhere!
Greg 5/6AC
The 'I Hate Fridays' collection by Rachel Flynn has a lot of humor and funny characters.
You start off in Grade Four at Koala Hills Primary School, with beautiful well behaved students, who quickly turn into your regular class and reveal some unusual "classroom characters".
You follow most of the characters all the way through Primary School, up to High School. But watch out, you might find some of the kids from the story, in your class!
I would recommend this series for kids from Grade Four to Year Seven who like growing up with characters and reading short stories.
Bethany 5/6AC
The Warrior series by Erin Hunter is about a house cat called Rusty who leaves his pet life to become a warrior cat of Thunderclan, one of the four cat clans that rule the forest. Rusty is apprenticed and given the name Firepaw. He must earn the respect of his new clan mates and live up to their expectations. This series is the first of three as we watch Firepaw fulfil the prophecy from the warrior ancestors.
The books are full of friendship, great battles and betrayal. I recommend this series for Year 5 and 6. After reading this you'll be eyeing your pet cat in a new way!!
Zach 5/6AC

If you want to have a book that stays under your nose, I would urge you to read Dragon Keeper by Carole Wilkinson. This book takes you on a truly fabulous journey! Your journey is epic, turning every page was a marvel.
Ping is one of the strongest girls(mentally) and believes she can help the dragon Danzi make a tough journey through China. They must reach the sea and protect the Dragon Stone.
Enjoy this beautiful book, I loved every tooth, claw and scale of it! Don't forget to read the other three books in the series
Katherine 5S
Parvana is written by Deborah Ellis and is about a young girl growing up in Afghanistan. When soldiers burst into her home and take her father off to prison, Parvana is forced to take responsibility for her whole family. Parvana risks her life and dresses up like a boy to earn money for her family.
I enjoyed the part where she has to take responsibility for her whole family and risks her life in the dangerous city of Kabul to write letters for people.
I recommend this book for people who like reading about people and their real life situations. If you like Parvana, the story continues on with Parvana's Journey.
Annelise 5/6 AC
This extraordinary book… A Ghost In My Suitcase by Gabrielle Wang is a heart filling book. The reason I like it so much is because it has a bit of mystery, ghosts, and a lot of adventure.
It's about a girl, Celeste who travels to China to return her Mum's ashes. During her stay at her grandma's house she finds out about her rare and powerful family gift. With that, Celeste learns a lot and realises how lucky she is to be who she is.
I would recommend this book from children from Grade 5 and up. Anybody who reads this book is in for a magnificent and interesting read.
Have fun!!
Gisele 5s

Hi, I spent two weeks reading Tweenie Genie, well Genie in training. So far it has been my favorite book. It's by Meredith Badger. It is about a girl named Polly. She has just had her 10th birthday when she finds out that she is a Genie!!!
Will she succeed as a Genie??
Louise 3c
Then by Morris Gleitzman is the sequel to "Once". It's a very confronting and realistic story set during WWII. "Then" is about Felix and Zelda's journey to protect each other from harm and the deadly Nazis. With a devastating ending, but still filled with hope, "Then" is a book you will want to read.
I really enjoyed the hope and real life quality in this book. It was very confronting but you will be drawn to every page so you can find out what happens to Felix and Zelda.
I would recommend this book for mature readers.
Ruby T 5/6AC

Jodie Brownlee's Ruby Rosemount series is one of my favourites!
It is about a 13 year old girl who has troubles with her genie powers. Her dad mysteriously disappeared on her first birthday and now she is determined to find out where he is.
While studying at the Academy of Peace in Babylon, Ruby steps forward with her cousin Avalon and best friend Jaffa to solve a scary mystery with answers so sudden that they take your breath away!
I enjoyed all the challenges that Ruby solves and she seems to feel the same way I would if I was her.
I recommend this book for people who like mysteries, adventures and magic. This book is COOL!
April 5/6AC

The series The Sisters Grimm by Michael Buckley is about fairytale characters in a muddle.
The main characters are two orphan sisters, Sabrina and Daphne. Daphne is a happy child and trusts everyone, but her older sister Sabrina can't control her temper and finds out that anger can't solve everything. Sabrina and Daphne are sent to live with their Granny Relda at Ferryport Landing where life isn't as it seems.
Come with the girls as they become Fairytale Detectives into a world filled with giants, pixies and the Big Bad Wolf, but watch out because something big is coming in their direction!
I would recommend this book to Grade 4-6 who like mystery, fairytale characters and a good book!
Bethany 5/6AC

My Ripper Read would be Andy Griffiths' book called Just Stupid. The stories are about Danny and Andy getting up to mischief all the time. I like Andy because he is funny .
My favourite story is Food Fight because Andy meets the famous actress called Natasha Teasedale and Andy and Danny throw food around the restaurant. The waiters come racing out and it is very funny! I would like to have a food fight like that!
I think the age group to enjoy this book would Grade 2-6 because it is a comedy type book.
Adam T 3BY

Magenta McPhee by Catherine Bateson is about a girl whose parents have split up and her dad doesn't handle it well. He starts getting depressed, loses his job and starts spending a lot of time reading at the Library. So desperate times call for desperate measures. Magenta with the help of her peculiar but loyal friend Polly go on an internet dating service and pretend to be Magenta's dad, but as the story goes on you learn that things don't always go Magenta's way.
I would recommend this book to anyone who likes friendship, a surprise twist and a good book.
Alexandra 5S
Skulduggery Pleasant 3, The Faceless Ones is better than the other two. It has more action, humour and betrayal.
It's about a mysterious man named Batu who killed all of the telaporters but one. The youngest and most stubborn is a teenager called Fletcher Renn. Valkyrie and Skulduggery must battle their way past Hollow men, ghosts and Sea Hags. They have to get the Sceptre of the Ancients back from China Sorrows and stop the gateway from opening and letting the Faceless Ones back.
Will they succeed like always, or will they fail for the first time? Read the book to find out!
Raoul 5/6AC
I am reading the Shadow Forest by Matt Haig.
The book is about two kids called Samuel and Martha Blink who become orphans and they have to live with their aunt in Norway. They find that their uncle has mysteriously disappeared. There is a forest behind the house and their aunt said not to go in but…see what they do.
I enjoyed the humour and adventure in the book. I recommend this book to Grade 5s and up. READ IT NOW IT IS WAITING FOR YOU!  (see the book's website on our Websites page under Fantasy)
Monique Z 5c
By far the most entertaining and immersing book that I ever have and maybe ever will read.
Harry Potter and the Goblet of Fire written by the massively imaginative mind of J.K Rowling is about a teenager named Harry Potter going through his fourth year at Hogwarts, a magical school for young witches and wizards.  This year someone mysteriously enters him into an incredibly dangerous challenge called the Triwizard Tournament.
I enjoyed reading about Harry's narrow escapes in the events of the Cup.  I also enjoyed the mind bobbling twist in the end.
I recommend this book for an older audience because it might be hard to read this type of text and it also might be a bit dark for a younger audience.
In conclusion, I believe the real magic is J.K Rowling's ability to write some of the most imaginative books in the world.
Matthew C  6V
My Ripper Read suggestion is The Sisters Club by Megan McDonald.  It is almost like real life sisters.
In the book there are three main characters.  The Boss sister is Alex, the Glue is Stevie and Joey is the baby sister.  The book captures what every sisterhood would be about.  They form a club called The Sister's Club.  You'll be reading this book straight away!
The author Megan McDonald always makes her books feel like real life so you want to keep reading.  She also wrote the Judy Moody series.
It is a very significant book to read if you have two sisters like me!
Honoria  6P
Inkheart,  the first book in the Inkheart trilogy is a book full of fantasy, mystery and adventure.
Ever wished you could bring a book to life simply by reading aloud?  When Meggie's father is reading Inkheart one night to his wife she magically disappears and he finds visitors in his bedroom.  When he realises that these people are from that book he finds out he has the gift of the silver tongue which lets him read characters out and others into the book.  Meggie has wondered about her mother for years, but when a stranger turns up at their doorstep in the middle of the night…
This book is a brilliant read about characters coming to life, betrayal and love.  I recommend this irresistible book by Cornelia Funke for Grade 5 and up.
Jessica R  6V
Snakehead,  the last book in the thrilling Alex Rider series by Anthony Horrowitz is my Ripper Read by far!
This book is aimed for readers around twelve to seventeen years of age and is action packed.  This story follows Alex's journey with MI6 and SAS in their fight against the Snakehead, an evil crime organisation based in Indonesia.  The Snakehead is planning an attack which would leave the world devastated and the only way they can be stopped is by Alex Rider.
If you enjoy spy, action or mystery books then you will love this book!
Thomas J  6V
I would definitely recommend The Worry Tree by Marianne Musgrove because the main character Juliet  is a worrywart.  No wonder, because her little sister Oaf follows her around taking notes and singing "The Irritating Song" all day long!  Her parents are always arguing about her dad's junk.  Her nana is so tired of taking art and craft lessons that at midnight she burns all of the things up.  Finally, Juliet's friends Lindsay and Gemma are having competitions to see who is Juliet's best friend.
When Juliet starts to sleep in her new room she discovers a Worry Tree wallpaper.  On the tree there are different animals who take care of each of Juliet's worries.  Some of these animals are Wolfgang the wombat, Petronella the pig, Gwyenth the goat, Dimitri the dog, Piers the peacock and Delia the duck.
You can click here to read the first chapter.
I hope that more people read this book!
Rebecca 4C
The Scream Street series by Tommy Donbavand is scary and a little bit humorous.
The book is about a boy called Luke who finds himself in Scream street when he realises he can turn into a werewolf when he becomes angry. Scream Street is just where he belongs but not his parents. He meets new friends and settles down in their new home, but the only ones who haven't settled down are Luke's parents. Mr. and Mrs. Watson, parents of Luke, are terrified of their new neighbours, a family of vampires. The only way to get them out of Scream Street is to find 6 relics of the 6 founding fathers of Scream Street to open a door to the human world. But the problem is the landlord Sir Otto Sneer is also desperate to find the relics as well. Will Luke find them before he does?
I recomend this book for children that love spooky stories and love a bit of humour.
Bianca 4VL
My Ripper Read is Pearlie and Great Aunt Garnet.  It is about Pearlie and her friend's secret birthday but Great Aunt Garnet got all mixed up.  It is very exciting what happened!
I think the age group is Grade 1 – 2.
from Emma T 1M
There are five girls in the Alphabet Club.  Amy, Bella, Chloe, Daisy and Emily.  Amy and Bella are best friends.   Chloe and Emily are best friends.  Daisy doesn't really have a best friend.  The girls in the Alphabet Club have decided they are going to have sleepovers for their birthday parties.  But there is one problem with Daisy's sister Lily…
Olivia 2ED
All of Daisy's friends in the Alphabet Club have had sleepover parties for their birthdays.  Daisy would love to have one too, but then her friends would have to meet her sister Lily.  She defiinitely doesn't want THAT to happen, considering what happened with her old friends.
This is a great book for girls about 6-11.
Caleigh 2ED
Percy Jackson and the Last Olympian byRick Riordan is the final instalment of the amazing Percy Jackson series. It's full of action, a bit of mystery, Greek fire and it's just breath taking.  I really enjoyed this book.  I am a big fan of Percy Jackson and his adventures so this book is in my opinion the best book in the series.   Annabeth and Percy make big choices and the "Great Prophecy" is revealed.
I would recommend this book to big Greek mythology fans, adventure fans and Percy Jackson fans!  But beware you have to read the other books first!!  Definitely a Grade 5/6 read.
Andie 6AC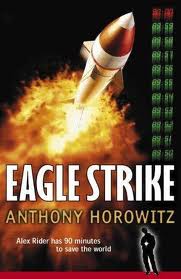 The thing I most enjoyed about Eagle Strike was that it had a lot of adventure and fighting and Alex Rider has to save the world.  If you enjoy reading spy, action and adventure books then you will enjoy Eagle Strike written by Anthony Horowitz.
This is the fourth book in the Alex Rider series.  In this book Alex  is in the south of France with his friends until their house blows up and their friend's dad nearly dies.  Alex finds an old enemy and a new enemy and has 90 minutes to save the world.
My favourite character is Alex Rider because he is the main character and he is a spy with humour.
Ben R   5S
Moya Simons has written a really enjoyable book called Hello God.
Kate and Stephanie are the main characters who just start off as classmates.  Kate, her friends and classmates call Stephanie "Four Eyes" because she wears glasses.  Kate then has to wear glasses and she realises she can't be calling anyone rude names any more.  Kate's parents invite Stephanie and her parents over and Kate asks God to give Stephanie a one day flu so she doesn't come over.  However, over time Stephanie gets really sick and has to go to hospital.
I enjoyed reading about how Kate and Stephanie's frienship grows and when Stephanie gets sick, Kate gets really worried.
I would recommend this book to girls in Year 4-7 who like realistic stories about friendship.  I really enjoy reading Hello God and I have read it FIVE times so far!!!
Nicola 5S
Robot Riot by the comedy author Andy Griffiths is book four of the ridiculously humorous Schooling Around series.  The story is set at Northwest, Southeast Central school, where a new girl joins class 5B – the same class as the main character Henry.  Henry notices some strange things about Roberta – she isn't afraid of spiders , doesn't believe in friends and DOES beat everyone at everything.
One day Henry finds a diary on Roberta's desk and discovers a top secret report…
This book is recommended for anyone who likes humour and also Grade Fives.
An  5S
Are you looking for a book with a mixture of horror, humour, crime, mystery or even the occasional death?  The Skulduggery Pleasant by Derek Landy is for YOU!
The main characters in the book are Skulduggery Pleasant, a talking skeleton and crimefighter and Stephanie Edgley who is Skulduggery's sidekick.  Tanith Low  is another crimefighter and then there is another man, Tanith who is responsible for a lot of deaths.
The book is about a school girl called Stephanie Edgley who at the start of the book is a normal person, but by the middle of the book is a crime fighting detective with Skulduggery Pleasant by her side.
I recommend this book for mainly Year 5s and over.
Josh WB   5C
I recommend The OK Team by Nick Place to people wh like humour and unrealistic characters that think they're Nerds but they're actually heroes.  The main characters are Focus (Hazy Retina), Cannonball, The Torch, Liarbird, Switchy and Yesterday.  These six wannabe heroes all want to become Triple A heroes but so far they haven't won a battle. Will they ever be Triple A heroes??
Luke M  5C
Set in a crooked tower, called Pimpernel and constructed by magic and surrounded by a moat full of water snakes, this story is full to the brim with humour, adventure and excitement.  It also has bucketloads of fantasy and mystery.  If you like that sort of thing then Igraine the Brave by Cornelia Funke is certainly the book for you.
I enjoyed this book because the main character Igraine is twelve and she hasn't had any real adventures, but Igraine spoke too soon.  Her life ends up being full of adventure and especially danger.  Greedy Osmund and his knight, Rowan the Heartless (or as Igraine calls him "Iron Hedgehog") come and attack Pimpernel Castle in an attempt to steal the singing books of magic.  Will Osmund succeed?  Read the book and find out.
If you enjoy reading this book then try the Inkheart series also by Cornelia Funke or even Molly Moon by Georgia Byng as both are full of humorous adventure and danger.
Mia H-J  5V
Grace is a nail biting book by fantastic author, Morris Gleitzman.
Grace belongs to a very special type of religion with some very strange rules. Grace's dad starts to question a lot of the rules which puts the family at risk and that's when problems start to happen.  Grace starts to question too and even breaks some of the rules.
Grace is my favourite character.  She is very loving and clever, but one thing she does almost gets her killed.  Lucky she has her dad.
I would recommend Grace for Grade 5s and up.  Grace is also a good book for teachers to read to their class.
Clare M  5V
Stuck in the middle of  World War Two, surrounded by Nazis, hope is one of their few possessions.  Set in a field of war, religions and hatred, Zelda and Felix have to escape…
My favourite character is Zelda because she always has hope even in the toughest times.
I recommend Once by Morris Gleitzman to people who like action, history and realistic stories.  this story explains how the Holocaust was so hard on everyone, especially the Jews.  Once is the first book in the series, the other books are Then and Now.
If you like writing and reading blogs, some adventure and some humour mixed into one then you will love The Greatest Blogger in the World by Andrew McDonald.
Charlie Ridge has a goal to become the greatest blogger in the world.  will he make his dream come true?  Willhe overcome thinking up ideas and beat his arch rival Boots?
Olivia 5C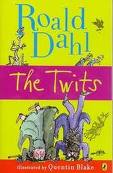 The Twits are a revolting couple.  They love  playing tricks on each other. They keep monkeys in their backyard and eat crows in pies.  Disgusting!  The Twits is a fun and adventurous book by Roald Dahl.
What I enjoyed most about this book is the humour and Roald Dahl's practical jokes.
I would recommend this book for ages 7 and up.  Tis book is good for people who like humour and practical jokes.
Giorgia 5S
Are you looking for a book with adventure and survival?  Running Wild by Michael Morpurgo is the book for you.  The main characters are Oona the elephant and Will.  When Will was having a holiday in Malaysia a tsumani struck  and Oona and Will have to depend on each other to get out of trouble and survive in the jungle.
Christian 5C
The Spook's Apprentice is a great book for Grade 5/6s who love horror, evil and a dash of spookiness.
The Spook's Apprentice is about a boy called  Thomas Ward who is the seventh son of a seventh son.  He is going into training to become the Spook's Apprentice.  Some have failed and some have fled.  will Tom survive his training where he has to face evil witches, boggarts and much more.
I really enjoyed when Tom was stuck in the pit and Alice came to help him.
Emma 5S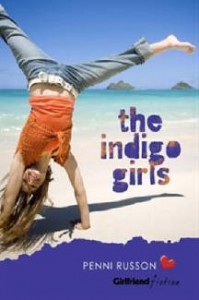 The Indigo Girls is written by Penny Russon. There are three girls called Zara, Tilly and Mieke and one summer Mieke can't come to Point Indigo. Without Mieke, Zara and Tilly are both worried that their relationship will be ruined because they are nothing like each other. I loved the action and adventure and how the characters solve their problems.
I would recomend this book for people aged 11-12 onwards.
Katherine 6AC