On Wednesday when I checked my blue tub for messages, I found a package addressed to me and when I flipped it over the sender was Felice Arena!
What a surprise to find a copy of Felice's latest Sporty Kids books, Handball and Tennis and some bookmarks!
Felice also signed both of our books with a message. Here is our Handball book with one of Felice's fans (who has some ideas of his own for some more Sporty Kids books)…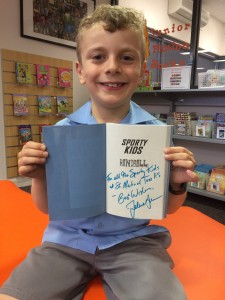 I wish Felice could have heard the cheers and excitement when I showed the Year Twos our copies of his books on Thursday in their library classes! We voted on which book to read and decided on the Handball book. We laughed in one class when two of the main characters, Luca and Stefan were actually sitting on the floor next to each other!! What are the chances of that happening?
Felice has a great way of pacing his stories and building excitement in his Sporty Kids books. The Year Twos listened with baited breath waiting to see if Luca would defeat Vinny Ping the Handball King in their handball challenge. They were also reminded of the importance of being a good sport when you are both a winner and a loser.
Each Year Two class then rated Felice's Handball book out of five and we tweeted him our photos…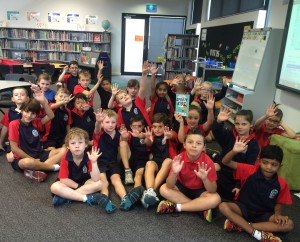 Thank you for our Sporty Kids books Felice and for making reading fun!
Now we need to decide on a fun challenge for students who would like to win one of Felice's bookmarks. If you have an idea please write it in the comments section…