The last time we saw Neil Montagnana-Wallace was when he came to our school last year with Socceroos goal keeper, Mark Schwarzer. That was when we helped  launch their fourth book called Megs and the Complete Left Foot and we also christened our brand new hall. When Neil came to visit us on Friday, the hall is now our temporary LRC!
Neil came to promote the fifth book in the Megs series called Megs and the Wonderstrike.  He also came to share the writing process he follows with the Grade 5 and 6 classes.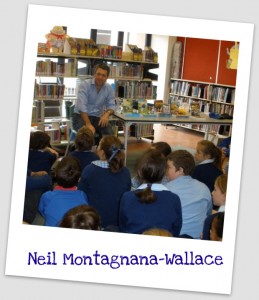 Things we found out from Neil…
You need an idea or inspiration to help you start writing – ideas can come from anywhere

When Neil was younger he kept journals.  Looking back through his journals he discovered that on one of his holidays he wrote about each day and gave it a rating out of 10!

Neil and Mark wanted to create a series of books about soccer and sport in general and to write about things that happen and issues you face when you play a team sport

Neil uses charts and mindmaps to help him brainstorm and organise his ideas for the Megs series

Neil writes up a plan for each story and mostly sticks to it

Mark and Neil discuss the Megs books over Skype.  Neil is an earlybird and Mark is a night owl so this works well because it's early morning in Australia and late at night in England when they talk

It took Neil two years to write the first Megs book

Neil loved the smell when he opened up the first box of Megs books and couldn't quite believe he had actually written them!

The fifth Megs book has been the hardest to write

Neil has used the names of people he knows in the Megs books

Neil also writes Non Fiction books
We were excited to hear that there are plans for the Megs books to become an animated series…we will stay tuned for more news!
Thank you for coming to visit us Neil…