When I was in Sydney a few weeks ago it was a lovely surprise to discover the Lego Christmas tree in the Pitt Street Mall. It is the tallest Lego Christmas tree in the Southern hemisphere…I felt smaller than usual in front of it!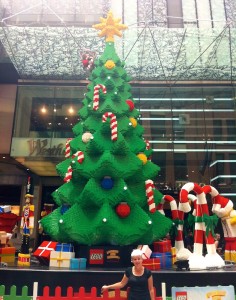 The Lego Christmas tree is 10 metres tall (taller than an average two-storey house and wider than a car) and comes complete with Santa and his surfboard for our Australian Christmas! 
It weighs 3.5 tons, and is built from over half a million bricks using a combination of Lego and Duplo.  
A team of five people built the tree in about 1,200 hours. (Lots of patience and team work!)
There is a reindeer designed by 10-year-old Lego Club member Luke Francis, who entered and won a competition to have his creation on display.
Watch these videos of the Lego Christmas tree being constructed. They might inspire you to get creative with your Lego over the holidays.You might like to take some photos and email them to me at smotlrc@gmail.com and I will post them on our blog!
Happy Christmas to everyone at St Martin's!
See you in the LRC in 2015…