On Sunday afternoon I was lucky to go the book launch of The Beast of Hushing Wood by Gabrielle Wang at Readings bookshop in Hawthorn. A book launch is like a 'Book Birthday' when a book is officially celebrated and released into the world for people to read. This is Gabrielle's seventeenth book!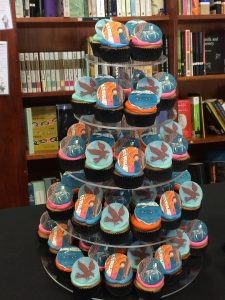 To celebrate, Gabrielle had cupcakes with toppers that were mini works of art using the stunning illustrations from her book. They were too beautiful to eat…almost!
(Click to enlarge the photos)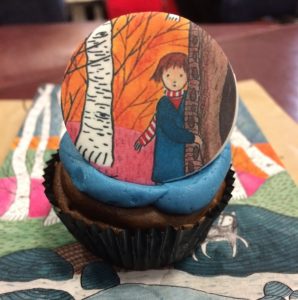 Family, friends and fellow authors were invited to the book launch and it was wonderful to see three generations together with Gabrielle's mum and daughter by her side.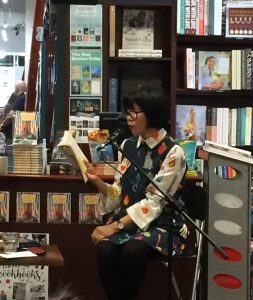 Fellow author Cath Crowley interviewed Gabrielle about her book and then we were treated to Gabrielle reading some of her story which left us wanting more! I lined up to have our book signed and Gabrielle wrote an important message for her readers…
'Why fit in when you can stand out'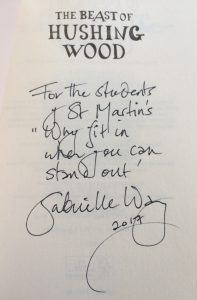 I follow Gabrielle on Twitter and Instagram and have enjoyed watching her create The Beast of Hushing Wood as she shared her ideas, illustrations and progress. Gabrielle actually contacted schools via Twitter in February 2016 to ask students which name she should give her main character which you can read about HERE. Gabrielle shared photos of Morocco and the Berkshire Woods in Massachusetts, USA on Twitter and after reading her book I can see how her visit to Morocco in North Africa influenced the magic realism in her story and spending time in the woods was very important in helping her create the setting of Hushing Wood and the town of Dell Hollow.
I couldn't wait to read The Beast of Hushing Wood and sat under my tree in the sunshine lost for the afternoon in Hushing Wood with the brave and adventurous Ziggy Truegood. I think it might be my favourite book of Gabrielle's so far! 
Ziggy Truegood lives in a tiny town deep in Hushing Wood, where strange things are happening. The townspeople are fighting, Ziggy feels like something is hunting her, and her beloved woods have become dark and hostile. When exotic Raffi and his grandfather arrive in town, Ziggy finds herself strangely drawn to them. But are they there to save Ziggy, or are they the hunters? 
The Beast of Hushing Wood is a story filled with mystery, adventure and magic beautifully woven together with Gabrielle's exquisite way with words and her delicately detailed illustrations…