This year we are going to focus on the different ways we connect in our library.  Over the holidays when I thinking about this I saw a wonderful illustration on Twitter by Peter H. Reynolds the author and illustrator of The Dot and I knew it was just what I was looking for!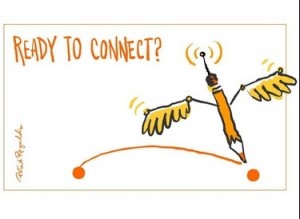 Peter used his imagination and creativity to illustrate his idea.  He then used the technology of Twitter to share his idea. I saw his illustration on Twitter and it sparked an idea for a display that I'm now sharing on our LRC blog!  
This is a great example of "connecting the dots" where Peter's idea connected with my idea through technology and inspired this display in our LRC…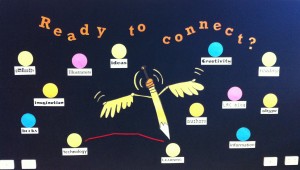 Click on the photo to make it larger
I'm looking forward to a wonderful year of connecting and learning through books and technology in our LRC in 2015…
Would YOU like to connect with us?