The exciting news for Tashi fans is that The Amazing Tashi Activity Book has been released this month!  Definitely a book to put on your Christmas list!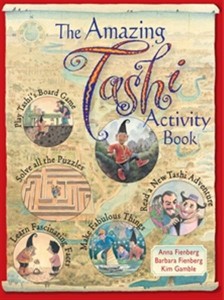 In The Amazing Tashi Activity book you'll find lots to do plus a fold-out with Tashi's very own Board Game.

Are you good at puzzles? Try Tashi's Treasure Chest of Words or his Tricky Word Puzzle or complete the Incredible Crossword. Can you find the Baron's gold with the treasure map? Or help Tashi rescue the children in the Warlord's maze? How will Tashi escape from the dungeon?

What will you make first? A boat? A dragon? The tiger pop-up card? You could make a diorama of Tashi's world or bake Ah Chu's favourite fish cakes.

And then there's a brand new Tashi story to read. In 'Tashi and the Strangers' a new family stumbles into the village, with General Zeng's soldiers on their trail. How will Tashi save them?