I was very honoured last week to be invited to talk to other teacher librarians about why they should have a library blog and to give them some blogging tips.  
On Wednesday I made my way across the city to Holy Rosary primary school at Kensington (near Flemington). I was so excited that I would finally be visiting their library that has recently undergone a make-over. (It's great to see what other libraries look like and share ideas!)  Mrs Bergin is their amazing teacher librarian who is full of energy and always has a big smile on her face!  
Mrs Bergin has created a bright, welcoming and vibrant library. I felt at home the minute I walked in and you could tell that their library is a place that is really used and valued in their school. Great job Mrs Bergin!  (You're lucky I'm not still there on one of your comfy couches lost in a book!)  A BIG thank you too to Thomas in Grade 6 who made sure I had a coffee when I arrived and escorted me to the library so I didn't get lost!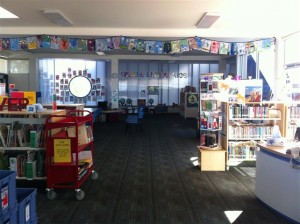 I'm hoping that after my presentation there will be some more library blogs being created ready for next year….