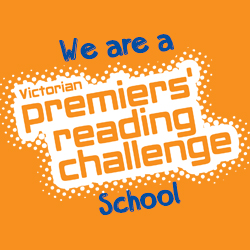 The Premiers' Reading Challenge (PRC) is held each year from March to September and our students from P- 6 are welcome to participate in the challenge.
The PRC is not a competition, but a personal challenge for students to READ, TO READ MORE and TO READ MORE WIDELY… are you up for the challenge?

Click on the link to visit The Victorian Premiers' Reading Challenge Website 

How do I join the PRC?
Ask your parents to print and complete the Consent Form below and return it to me by Monday, May 1st.
When I receive your Consent Form I will register you and give you your username and password. Then all you need to do is READ and record your books online as you go!

Click HERE to read the PRC rules

How many books do I need to read to complete the PRC?
Prep – Year 2
30 books – EITHER 30 Challenge books OR 20 Challenge books and 10 or more Choice books 

Year 3 – 6
15 books – EITHER 15 Challenge books OR 10 Challenge books and 5 or more Choice books

Can I read as many books as I like?
You can read as many books as you like as long as you read the required number of Challenge books for your level from the PRC book lists. Try to read a variety of genres, authors and types of books (picture books, novels and non fiction) so you step out of your "reading comfort zone"!

Where do I find the PRC book lists?
You can search the book lists online HERE  OR click HERE to download the 2017 PRC book list for your year level. 
Where can I read books from?
You can read books from our school library, your local library and from your own library at home.

Where do I record my books when I've read them?
You can record your books in your class Reading Diary and when you have finished reading your book you can record it online on your PRC page. Please record your books online as you go along and not at the end so I can verify your books as you finish them.
This document below explains how to record your books online (and I will give you a copy when I register you).

When does the PRC finish?
You will need to STOP READING and have all of your books recorded online by MONDAY, AUGUST 28th so I can finalise everybody's books.
However, if you finish your reading BEFORE this date please let me know.

What if I have a question or need some help with the PRC?
You can see Miss Y at the LRC or leave me a comment below and I will get back to you.  🙂
Happy reading!