On Tuesday August 8th, the fans of The Treehouse series by Andy Griffiths and Terry Denton were bursting with excitement all over Australia! It was FINALLY the release day for their hugely anticipated sixth book The 91- Storey Treehouse.
Some very lucky students from our school attended The 91- Storey Treehouse book launch after school last Tuesday afternoon at the Melbourne Town Hall. One of the mums said that the line waiting to go into the Town Hall was half way up Collins Street. It was like lining up for a rock concert! Well, Andy and Terry are the rock stars of Australian children's books and it is fabulous that they have children lining up to meet them because they write books that kids want to read and make reading fun!
We heard that Andy and Terry played a great trick on the audience when they told them close their eyes and imagine being in the world's most powerful waterfall and then they got out water guns and sprayed the audience! They also had fun playing 'Spin and Win' with kids from the audience and there were also huge hairy spiders and rainbows….which will all make sense when you read their book!
These two lucky people had no idea they were going to the book launch when their mum collected them from school. Imagine their excitement when they were told…
These boys lined up after the book launch for over an hour for an opportunity to have their photo taken with Andy, Terry and Jill. One of these boys also met Sally Rippin a few weeks ago…I wonder which author he will go to meet next?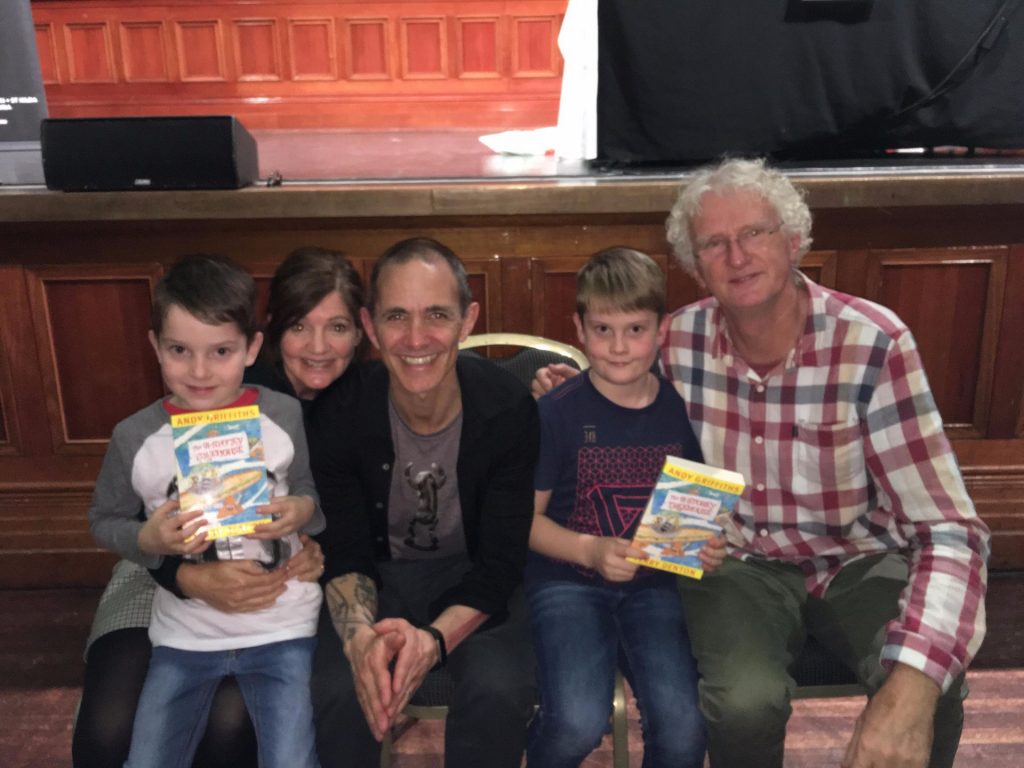 This Treehouse fan couldn't wait to start reading his copy of  The 91- Storey Treehouse before the book launch even started! This what he wrote about the book launch…
On the 8th of August, we went to The 91-Storey-Treehouse book launch. I went with my friend Ben. My favourite part was the big red button because I didn't know what it was going to do. Afterwards we went to a restaurant. it was good!