A very excited reader rushed into the library before school this morning to show me a surprise she had received in the mail. She is a big fan of the Ruby Red Shoes series by Kate Knapp and proud owner of her three books.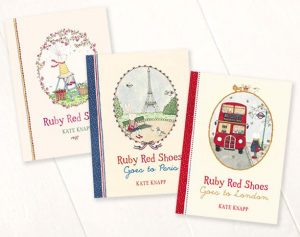 Three weeks ago our happy reader wrote a letter to Kate Knapp. She told her how much she enjoyed reading the Ruby Red Shoes books and asked if she might write a new book called 'Ruby Red Shoes Travels Around Australia'. Imagine our reader's surprise when her big sister collected the mail yesterday and ran inside to hand her an envelope from Kate!
You can read Kate's response in her beautiful handwriting. I think she may have been just as excited to have received a letter from one of her fans. Ruby Red Shoes is currently travelling in Austria, but we will be watching closely to see if she has an Australian adventure soon too! 
Our observant reader was very impressed that the inside of Kate's envelope even has the matching pattern to the endpapers in her Ruby Red Shoes books!
Our reader also discovered that I am the happy owner of a Ruby Red Shoes cup which I chose for it's lovely reminder…
Thank you Kate for making one of our fabulous readers VERY happy!