I am one of those readers who enjoys learning about the talented authors and illustrators who create our wonderful books. I like hearing about what might have sparked the idea for a book or the process involved in creating the story or illustrations. I also like to read the dedications at the front of a book and wonder why the book was dedicated to that particular person or people. Sometimes when you do this you discover a story behind the story you have read in the book…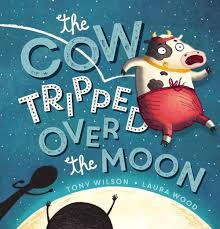 I have read The Cow Tripped Over the Moon to our P-2 students. We have laughed at some of cow's attempts to jump over the moon and felt her frustration at each failed attempt. We have encouraged cow along with her friends and cheered when she achieved her goal. At the end of the story we discussed the message or meaning of the story and responses included…
Don't give up
Keep trying
You'll get there in the end
Encourage and help your friends
However, the message took on a deeper meaning when I told our students the story behind The Cow Tripped Over the Moon.
At the beginning of the book the author Tony Wilson has written his beautiful dedication 
For my beautiful Jack. You will jump moons.
Jack is Tony's four year old son who has cerebral palsy which affects the muscles in his arms and legs and also affects his vision so he can only see a couple of metres. Jack cannot walk by himself, or crawl, or sit for very long. Jack has to do daily therapy to help him do these things and displays perseverance every day. Jack is also a big fan of the Elephant & Piggie books just like we are in our library!
Tony said  "Jack is only four, but he's my inspiration. Jack is also the inspiration for The Cow Tripped Over the Moon. I wanted to create a character who, like our Jack, never gives up".  As I told our students about Jack and why Tony wrote his story, I could see our student's level of empathy and connection to The Cow Tripped over the Moon move to a deeper level. I'm sure from now on when our students read this story they will think of Jack. The power of story…
You might like to read more about Jack or the process Tony followed to write his book in this blog post by Tony.