When I first saw the front cover of Sad, the dog by Sandy Fussell, my heart did a flutter and tears filled my eyes…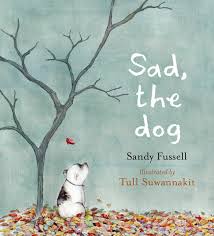 The front cover illustration brought back a precious memory of my much loved dog Jambo. Seeing Sad sitting amongst the autumn leaves reminded me of my favourite photo of Jambo sitting amongst the autumn leaves under the big tree in my backyard also watching the leaves fall. Books can have a special way of connecting with us and I knew that for me, Sad, the Dog was one of those books.
This term I read Sad, the dog to the Year Twos. We thought a lot about how Sad was treated at the beginning of the story and how lonely he was until he met Jack and his family. Jack filled Sad's life with love and fun and he changed from Sad to Lucky. We also talked about how dogs are members of our family who need to be cared for but they need love too. It was also a reminder that a pet is not just a gift for Christmas or a birthday, it is a lifelong commitment. 
The Year Twos enjoyed learning how to draw Sad by following the steps of Sad's talented illustrator, Tull Suwannakit . They were interested to learn that Sandy had pictured Sad to look like a spaniel dog called Cassie in her mind which was very different to the dog Tull drew, but she realised the way Tull had drawn Sad, was 'just right'.
We also shared our pictures of Sad with Sandy on Twitter and asked her some questions.
These are a few examples of our work and drawings of Sad, the dog and our tweets with Sandy the author.
The Year Twos have just read The Big Little Book of Happy Sadness by Colin Thompson. They made thoughtful connections between the stories of the dogs, Sad and Jeremy and their two new owners Jack and George. Both stories went from sadness to happiness when the boys made decisions that changed the dogs and their own lives forever.
The Year Two students discussed what type of leg they could design for Jeremy to improve his life or make it easier for him to do things and then drew their designs…