Tristan Bancks always encourages his readers to write about things that happen to them so I'm writing a story about what happened to our copy of Tristan's latest book…
A few weeks ago as you know, I went along to an Author Afternoon Tea at The Little Book Room. I was excited to have our copy of Tristan Bancks' latest book My Life and Other Exploding Chickens signed for our library.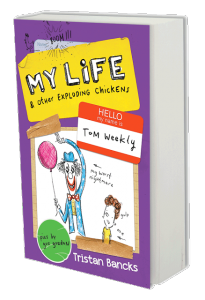 Three nights later on the Sunday night, I snuggled up on my couch to read Tristan's new book before everyone else at school got their hands on it and I wouldn't be able to borrow it for months! I laughed and groaned as I read Tom Weekly's stories. I was reading 'Death by Clown' and feeling sorry for Tom at the circus and his fear of clowns when I reached page 78 where Giggles the Clown had control of the remote control and was driving Tom towards a ring of fire and to my horror I discovered the story skipped to page 85!!! Oh no! Pages were missing! Who was going to win the battle of Tom Weekly versus Giggles the Clown??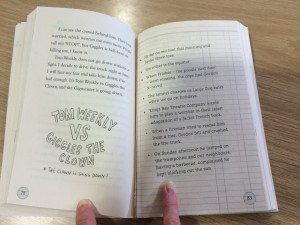 At first I wondered if Tristan was playing a trick on his readers by leaving the last few pages out of his story. Then I looked a little closer and the pages hadn't been left out, they had been RIPPED out of the book! How did that happen? Who would do that to a book? Leesa at The Little Book Room was as perplexed as me and kindly offered to replace our book.
In the LRC that week I told the Year 3-6 classes about the mystery of the missing pages and we all wondered why someone would rip the pages out. We had fun listening to 'Sit Where You Knit' (some of us with grimacing faces and tears in our eyes) before I posted the book back. I then rushed out to buy another copy of the book so we would have two copies, but more importantly I had to see if Tom beat Giggles and also finish reading the remaining stories! (You can now borrow the book to find out too).
On Saturday morning the mystery of our missing pages was solved! I watched the Kids' WB show and their interview with Tristan Bancks at The Little Book Room. Adrian Beck, Shane Crawford and the Kids' WB team had fun disguising Tristan so he could prank some kids in the book shop….Tristan was hilarious!
Some of the pranks Tristan did included ripping a copy of his new book in half, dropping an 'original' Wimpy Kid picture 'accidentally' into a fish bowl and ripping pages out of his book to eat! Yes he RIPPED pages out of his book! I laughed and laughed when I realised THAT must have been the book I picked up and bought and asked Tristan to sign!! What were the chances of me picking up that book?
The mystery of the missing pages in our book has been solved and who would have thought it was the author who was the culprit! Now we have our own fun story to tell about My Life and Other Exploding Chickens….
#ReadingIsFun