On Thursday of the last week of term Adrian Beck co-author of the Kick it to Nick football books popped into the LRC with signed copies of books for some lucky students. Little did I know that Adrian had another big surprise for us when he opened a box to reveal a limited edition football from this year's AFL Indigenous Round.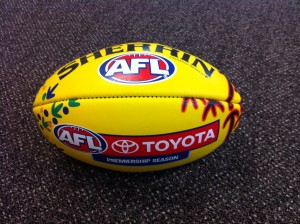 The Indigenous Sherrin football symbolises the celebration of all Aboriginal and Torres Strait Islander players. The lizard men depict groups of men outstretched, emphasising high marking which is a unique feature of both Mangrook and the modern game. The feet-like tree roots of the lizard men represent the strong links to country and the traditional game of Mangrook. The images are inspired by the Rock Art shelters in the Gariwerd Ranges (Grampians) in Tjap Whurrong country in Victoria.
Adrian thought this football could make a great prize for a Reading Challenge. "What a brilliant idea!" I said and before I knew it Adrian had whipped out his phone to record us for a video for what he creatively named The Yeo-low Medal – (a play on my surname) and a close relation to the Brownlow Medal but for the best and fairest readers!
Next job for me was to create a Reading Challenge that would be fun and encourage everyone to read a variety of books this term. A big thank you the MPMK website that helped spark my ideas for our footy-themed Reading Scavenger Hunt.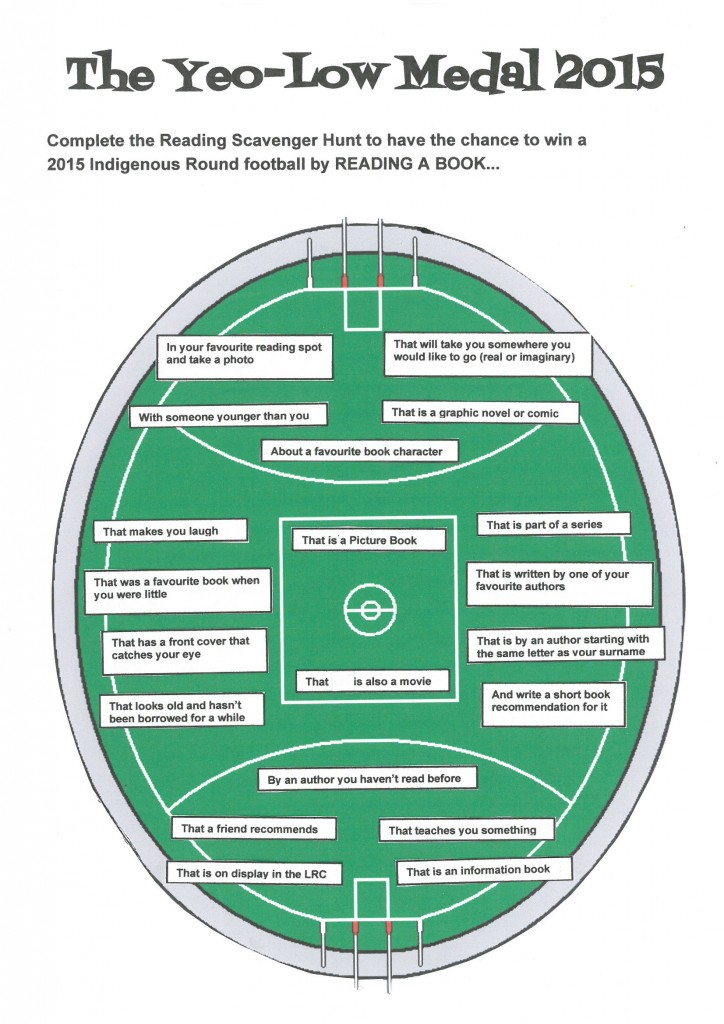 You will need to collect your Reading Scavenger Hunt and recording sheet from the LRC and I will add your name to the Yeo-low Medal readers.  (Registration closes on Friday, July 24th at 3.45pm)
Have fun completing and recording ALL of the 20 reading challenges by Monday, September 7th to have the chance to win the Yeo-low Medal for Reading to honour our best and fairest readers
Thank you so much Adrian for encouraging us with our reading. We are looking forward to Week 9 when we have our big Footy Day and you come and present the winner with the Yeo-low Medal and Indigenous Football…
Happy reading everyone!