Felice Arena is a popular author in our library! Felice has a range of fans across the grades for his series books including Specky Magee, Farticus Maximus, Stick Dudes and Andy Roid. You can find Felice's website HERE.
Felice has just released a new series called Sporty Kids that is perfect for early readers. The first sports are Swimming and Footy with more sports to follow. The books are a perfect length with short chapters and fun illustrations by Tom Jellett.
Miss Y thought the Year Ones would really enjoy the Sporty Kids books and she wasn't wrong!  We read the Swimming book and had lots of fun talking about belly- whackers (and demonstrating them!).  Lots of students have had swimming lessons and knew the activities that Emma and her friends were doing. They liked that some of the characters shared names with children in their classes. They loved the way Emma used her imagination to help her with her swimming and had lots of fun guessing which sea creatures she would pretend to be and were very accurate with their guesses! Some classes even cheered Emma on as she tried her last dive.
A big part of the fun was when Miss Y took photos of each class pretending to be one of the sea creatures and tweeted the photo and our comment to Felice. It was so exciting to have Felice send a tweet back to each class!
You can read them here…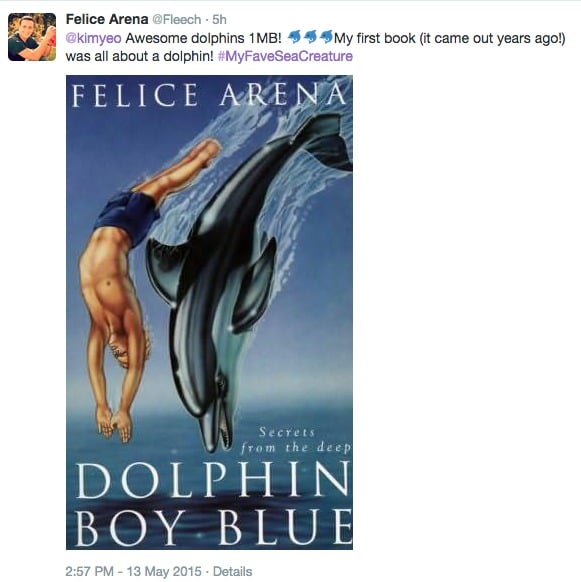 Tweeting with Felice was a fabulous way to connect the students directly and immediately with the author of the book they were reading and to "take the book off the page"! They were thrilled to read Felice's replies.  It was tricky fitting everything into our 45 minute lesson (and Miss Y had a few typos while trying to speed type on her phone) but it was well worth the effort.
Thank you Felice, for helping Miss Y make reading fun in our LRC.  We can't wait to read your Sporty Kids Footy book next…
From Miss Y and the Year Ones – 1C, 1GC and 1MB 🙂