Each year I have some favourite stories I love to share with the Preps in the LRC at the beginning of the year. This year I've also shared them with the Year Ones because I wasn't at school last year. What is lovely about this is that all of the students at our school know these stories…
I call this story an "oldie but a goodie" which means it's an old book, but it is a great story and is lots of fun to read. It is called Walter's Wand. Everyone enjoys waving their wands and saying Walter's magic words as we read the story and see the tigers, pirates and oceans come to life in the library.  The best part is after people scan their books they use one of Miss Y's wands to tap their book and say their magic word… and wait to see if their magic has worked when they read their book at home!
When everyone looks at the cover of Winston the Book Wolf they are surprised to see a wolf eating a book with his sharp teeth! Winston LOVES words but he thinks he has to eat books with his mouth to taste them. Luckily Rosie teaches Winston that he can still taste his words if he eats them with his eyes because "when you read you eat words with your eyes!"  Thank goodness our students do this or we would have lots of books in our library with big bites taken our of them!  
Everyone loves Charlie and Lola, especially Lola who is very funny! In this story But Excuse Me That Is My Book Lola has a favourite book called "Beetles, Bugs and Butterflies" that she loves and keeps borrowing from the library. However, this time she can't find her book on the shelf and poor Charlie tries to help her find another book to borrow. Disaster happens when Lola sees somebody else borrowing her book and she has a bit of a tantrum in the beanbag (I am SO glad nobody has ever done this in our library!) Lola finally finds a new book to enjoy and reminds us that we borrow books from our library but we can't keep them! You might like to watch it here
We have two Library Lions in our library and the little one has a VERY big roar! In Library Lion everyone is surprised when a lion walks into the library one day.  Lion has come to listen to stories and he is allowed to stay as long as he is quiet.  Lion becomes a big help to Miss Merriweather, but when she gets hurt the only way he can get help is by roaring. Sadly Lion broke the rule and has to leave the library. There is always a hush when everyone sees how sad Lion looks standing outside the library in the rain and happy smiles when the rules are changed for him to return. This is a great book to talk about rules in the library and to do some serious roaring in the LRC too!  You might like to watch it being read here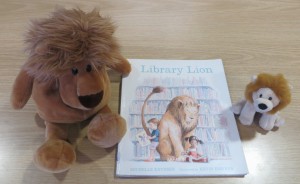 Which one of these stories is your favourite?