Tashi has a new book called Tashi and the Wicked Magician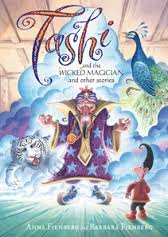 This hardback book with colour illustrations has four fabulous Tashi stories filled with adventure, magic and mystery – there's a Magnificent Magician with a greedy plan, a haunted house about to go up in flames, ruthless ruffians after a rare orchid, and a quest for the bravest person in the land to face the fire-breathing Red Whiskered Dragon. Take a peek at some of Geoff Kelly and Kim Gamble's colour illustrations from the book.
Tashi has his own television series
The Tashi series has sold over one million copies in over 20 counties and now the clever people at Flying Bark have brought Tashi to life in his very own animated television series.  The series will begin on November 27th on 7TWO from 7.30 – 8.00am. After watching the trailer below I can't wait to watch the series…what do YOU think?