You might be wondering what a Canadian astronaut and an Australian children's author might have in common…
Colonel Chris Hadfield and Andy Griffiths are both "rock stars"in their jobs and inspiring in what they do and over the past two weeks I've had the opportunity to see them both!
I'm sure you will remember last year when we watched  videos from the International Space Station made by Canadian astronaut Chris Hadfield. He tweeted incredible photos of Earth each day for the five months he was on the ISS.  I have read his amazing book called 'An Astronaut's Guide to Life on Earth' and was inspired by how he quietly decided to be an astronaut when he was nine years old after watching the moon landing and how he worked incredibly hard to fulfil his dream. Becoming an astronaut is nothing like I imagined.
Chris Hadfield visited Australia for a week and I was lucky to see him in Melbourne at The Melbourne Writer's Festival and again in Canberra for Science Week.  His talk was called "The Sky is Not the Limit".  I was fascinated as he spoke and felt like I was there as he explained in animated detail what it was like to be in a rocket launched into space, how fun it is to be weightless and how for 21 years he worked towards turning himself into an astronaut.  I had goosebumps when he picked up his guitar and played his version of "Space Oddity" that he became famous for playing in space.  
Chris Hadfield encouraged us to "Decide in your heart of hearts what really excites and challenges you, and start moving your life in that direction. Every decision you make, from what you eat to what you do with your time tonight, turns you into who you are tomorrow, and the day after that. Look at who you want to be, and start sculpting yourself into that person." 
(Click on the photo twice to see the larger size)
I'm looking forward to Chris Hadfield's next book in October called "You are Here: Around the World in 92 Minutes" which will contain his photos from space and his comments about them.  I'm also very excited that he is working with Peter Reynolds  (who wrote and illustrated The Dot) to create a picture book which I know will be both creative and inspiring.
I was disappointed not to have my book  signed by Chris Hadfield, but I did find two "astronauts" to have a fun photo with!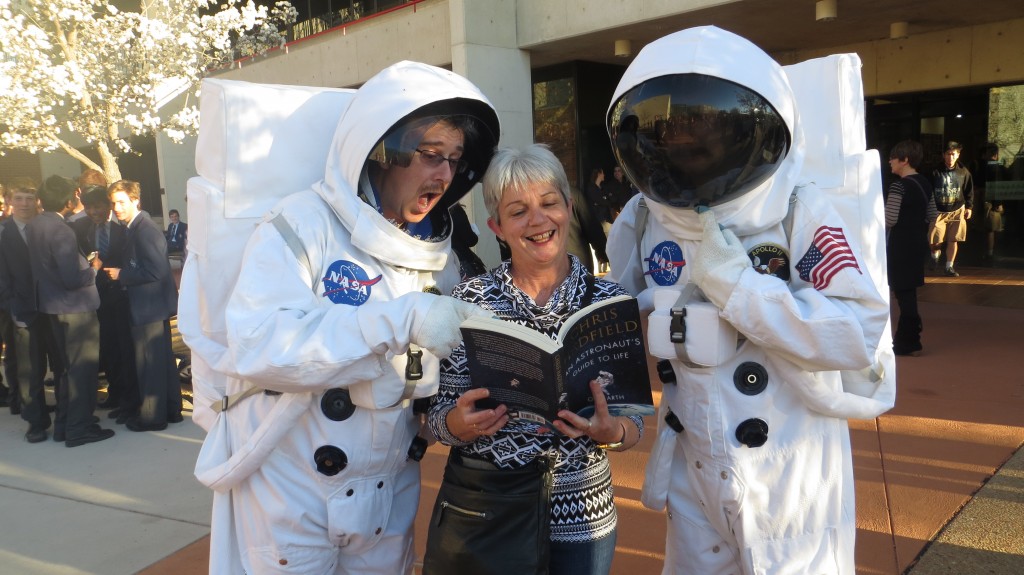 I'm sure by now that many of you already have your own copies of The 52-storey Treehouse by Andy Griffiths and I know after reading it that you will definitely be eating your vegetables from now on!!!
Last Friday I lined up at Dymocks at Doncaster to meet Andy Griffiths and have a book signed for our LRC and for our friend Mrs Hembree's library in Seattle, Washington.  I arrived at 2.30pm which was 2 hours before Andy was to start signing at 4.30pm and there were already people lined up!  I was so glad to be there early as I watched the line grow longer and longer and longer…it had even looped back to where I was near the beginning and they had to start another line further over by the time Andy arrived!  It made my teacher librarian heart sing to see so many excited children lining up with their books waiting to meet their favourite author.
Andy signed books for people from 4.30pm until the shopping centre closed at 9.00pm, but he wasn't finished yet….he still had to sign piles of pre-ordered books in the store (see the photo he tweeted below)!!  He finished signing at 11.30pm…that's SEVEN HOURS of signing!  
I suggested to Andy on Twitter that he and Terry Denton need to hurry and design a book signing arm for Andy before he wears his arm out!
I was SO excited to FINALLY meet Andy and have the opportunity to shake his hand and thank him for making reading fun and for inspiring so many children to read.  He has such a lovely smile and takes time to talk to every single person as he signs their book.  We are so lucky to have such a wonderfully talented and generous Australian author!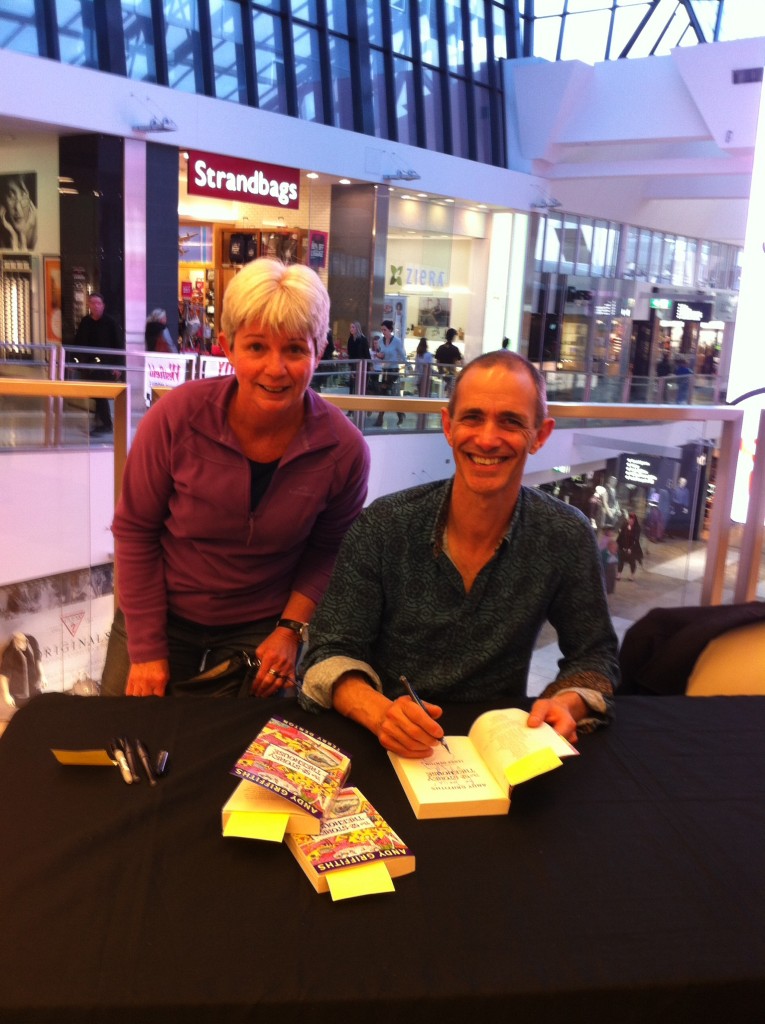 Mrs Hembree's signed book is on it's way to Seattle and I'll drop our signed copy into the LRC on Monday…
Happy reading everyone!