A HUGE thank you to everyone who came to our Book Fair this year and helped to make it a great success!  
On Friday there were lots of "Book Mountains" appearing on the LRC floor as I finalised the book orders for each class…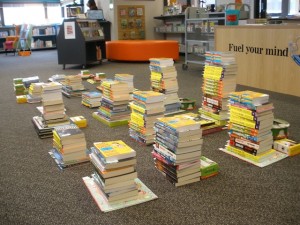 Once Upon a Slime, The 39-storey Treehouse, Don't Look Now, Big Nate Out Loud and Caesar the War Dog were among the most popular books. I hope the people who bought the Christmas Cooking book will bring some of their Christmas cooking in to share!
Three classes in particular stood out for the large number of books they had ordered.  I know what the students in 5WM, 4V and 6CC will be doing over their Melbourne Cup break…
I was met by lots of cheers as I delivered the books to classrooms. It made my heart sing to know that reading is alive and well at St Martin's!