Today the Preps and Grade Ones had fun reading a story that is "an oldie but a goodie".  When the Wind Changed was written 33 years ago which makes it an old book, but it's still a great story!!  Many children hadn't heard this fun story.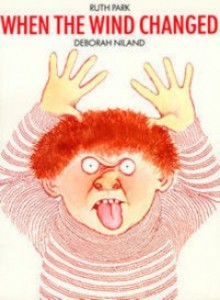 We have had lots of very windy days here in Melbourne recently so I thought this might be a fun book to read.  In the story Josh is good at making faces that can scare the dog next door, the postman and even his grandmother.  His dad warns him to be careful that the wind doesn't change when he makes his faces or his face would be stuck looking that way – that's exactly what happens to Josh!!
Just like Josh we practised using different parts of our faces to make our best "horrendous" faces…what do you think?