WARNING – If you are someone who doesn't like visiting the dentist then you should NOT read this book!!
I am SO glad I go to a lovely gentle dentist called George and not an evil tooth crazy dentist like Miss Root ….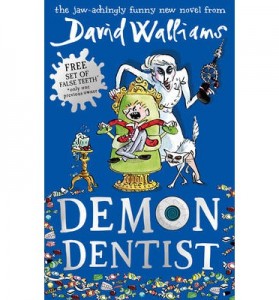 Darkness had come to the town. Strange things were happening in the dead of night. Children would put a tooth under their pillow for the tooth fairy, but in the morning they would wake up to find… a dead slug; a live spider; hundreds of earwigs creeping and crawling beneath their pillow.

Evil was at work. But who or what was behind it…?
If you dare you can meet the evil Miss Root in this extract from the book HERE
VILEST VILLAIN COMPETITION
In Demon Dentist we meet David Walliams' grossest, scariest, ghastliest, evilest, VILEST villain yet! 
Invent the vilest villain imaginable to win artwork by Tony Ross, signed by David Walliams!
Create your own vile villain to enter the competition HERE