Today I had a lovely afternoon with other kindred book people at The Little Bookroom for the launch of Gabrielle Wang's latest book called The Wishbird .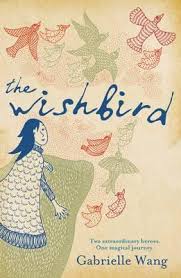 Can you imagine a world without music?
"Oriole's beloved Wishbird is dying and she must leave the Forest of Birds to save him. But in the City of Soulless there are traitors everywhere, and when Oriole is captured, only a street orphan can help her.
Can Oriole and Boy save Soulless and its bewitched king, or will the city's darkness prove too great even for magic?"
This is the first time Gabrielle has published a novel with her own illustration on the front cover.  The Wishbird contains many beautiful and intricate illustrations that Gabrielle has drawn using a sewer's magnifying glass.  Click HERE to listen to Gabrielle read some of The Wishbird and discover where the idea for her story came from…
 Enjoy these photos from the book launch…
 Now I need to read this wonderful story for myself!