"Once upon a time, but not very long ago, deep in the Australian bush, there lived two possums. Their names were Hush and Grandma Poss. Grandma Poss made bush magic…"
Did you know that Possum Magic was written by Mem Fox and illustrated by Julie Vivas 30 years ago?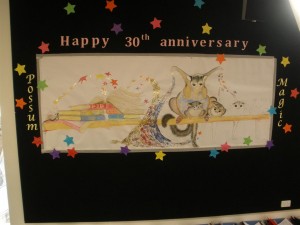 Click to enlarge
Mrs Collins drew this picture for Possum Magic's 25th anniversary when we were in our old LRC.  It's lovely to put it up again five years later in our new LRC to celebrate the best known picture book in Australia and the best selling picture book ever in this country.  Hush and Grandma Poss are much loved characters and part of the childhood of many Australian children. Lots of students at our school have their own much loved copy of Possum Magic.
Did you know….
Mem Fox wrote Possum Magic for an assignment and it was originally called "Hush the Invisible Mouse". Possum Magic was rejected 9 times before a publisher agreed to publish it…thank goodness they did!  You can find out more information about Possum Magic by clicking HERE as well as recipes for Lamingtons, Anzac Biscuits and Pavlova!
Enjoy watching and listening to Mem Fox read Possum Magic…
What is your favourite part of Possum Magic?