Every year Melbourne waits in anticipation for the magic of the Myer Christmas Windows to be revealed.  This is the 57th year of the Myer Christmas Windows. It's exciting to see that  "Russell's Christmas Magic" by one of our favourite author's Rob Scotton has been selected this year.  We are fans of both of his characters Russell the Sheep and Splat the Cat.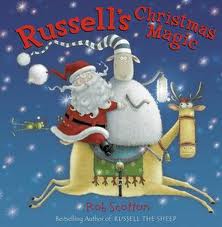 It's Christmas Eve and Santa has crash-landed in Firefly Wood.   His sleigh is broken and it looks like Christmas might have to be cancelled.  What a disaster!  However, it's Russell the Sheep who comes to Santa's rescue with a very creative solution to help Santa on his way again to deliver presents…
There is a talented team of creative people who work together over nine months designing and animating the story so it comes to life each year in the Myer Christmas Windows.  If you have ever wondered how the windows are created watch this video…
Which job would you like to do to help create the Myer Christmas Windows?