We have lots of fans of  The Diary of a Wimpy Kid series by Jeff Kinney.  I had informed our students about the details of Jeff Kinney's visit to Australia and some very keen boys went along to see Jeff.  This is what they had to say about their exciting day….
Matteus and Oliver in 4VL and William in 2TM visited Jeff Kinney at the Melbourne Town Hall on Sunday, May 20th.  We went to see Jeff Kinney because we like him as an author.  He told us about how he made Diary of a Wimpy Kid and the process he went through to make the books.  His books were supposed to be for adults , but they turned out to be for kids.  After he spoke we waited for him to sign our books.  It took quite a long time until he could sign them.  We all had a lot of FUN!! 
By Matteus, Oliver and William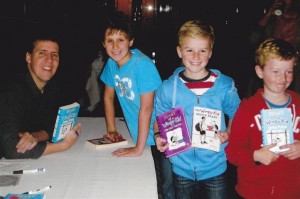 Do you have a question you would like to ask the boys?