Did you know that we have our very own Library Angel?
As some of you know, I am a teacher librarian who uses Twitter.   For me, Twitter is like being in a great big staffroom where teachers can share and learn from each other.  Through Twitter, I have been very lucky to connect with amazing teacher librarians and teachers both here in Australia and countries around the world.  
One of the inspiring teacher librarians I have become friends with through Twitter and blogging  is Mrs Hembree.  Mrs Hembree is a teacher librarian in Seattle, Washington in the USA and she writes an award winning  Bulldog Readers Blog  for her school library that you can look at HERE  (and it's also on our Library Blogroll).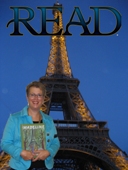 Mrs Hembree and I have discovered we both…
Love being a teacher librarian
Love books and reading
Like to try new things in our libraries
Enjoy learning about and using technology 
Write a school library blog
Have packed up and moved our libraries
Love dogs
After our LRC was flooded on Christmas Day I told Mrs Hembree because I knew she would understand how sad it was to see the damage that had been done as she had followed the building of our LRC through our blog.  It was then that a truly HEART WARMING thing happened…
Mrs Hembree might be on the other side of the world, but she wanted to help us in some way.  So she wrote a blog post about our LRC Flood that you can read HERE and asked people to send us books….
I was so touched to think that someone I haven't yet met face to face cared about us and what happened to our LRC and wanted to find a way to help us and even ask others to help us too!
Our school doesn't resume until February 3rd so I don't know how many books might be waiting for us in the mail. We will be both very excited and grateful when we find out (stay tuned!).  What  is really special though is knowing that we have a reading friend who  has reached out to help us from the other side of the world….a world that through the use of  Social Media isn't so big after all!
THANK  YOU Mrs Hembree – our Library Angel!