Thank you for a wonderful year in the LRC everyone.  Have a Happy Christmas with your families and lots of fun on your holidays!
At the end of the year the Preps and I had great fun singing along to one of our new Christmas books…"All I want for Christmas is My Two Front Teeth" (we have quite a few children with this request!)  The cheeky monkey tries lots of interesting things to fill his gap…what would you use to replace your teeth?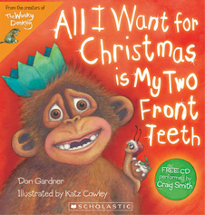 Here's a version sung by Alvin and the Chipmunks…Merry Christmas Everyone!