This term Grade 2V  and Miss Valvo have been enjoying sharing stories written and illustrated by

Bruce Whatley

. Last week I gave them one of our new Christmas stories –

"Christmas Wombat"

by Jackie French and Bruce Whatley. This is the third wombat book Jackie and Bruce have created together and this one is lots of fun too!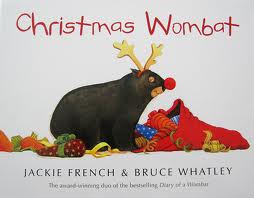 Mothball the wombat loves her carrots, but on Christmas Eve, when Mothball  hitches a ride on Santa's sleigh she makes a discovery…"Never knew there were so many carrots in the world!"
Miss Valvo let Grade 2V loose in the class Art Cupboard to design their own Christmas Wombats and here some of their wonderful creations….
What is your favourite Christmas story?