A Guest Post by Matteus…
On the 14th of July during the Term 2 holidays I went to a shop called The Chocolate Master in Thornbury with Nicholas C in 3BP who was having a sleepover at my house. My two sisters Alessandra in Prep JC and Lucia also came along.
We went to our local library in Rosanna first where I borrowed Uncanny by Paul Jennings and Nicholas borrowed  Paddington by Michael Bond. ( At the moment I am reading Harry Potter and the Chamber of Secrets).
Once we borrowed our books we went to The Chocolate Master.  It was a very small shop with adorable chocolates.  There were big chocolates, small chocolates, rectangular chocolates, shoe chocolates, Buddah chocolates and LOADS more.  We got to buy a pack of chocolates.  Nicholas chose three chocolate stars.  Both of my sisters chose a baby bottle with little chocolate buds.  My mum bought three chocolate koalas.  I did not buy anything because I did not know what to choose (It was because they all looked so delicious!).  So, because I did not choose anything I got to eat one of my mum's chocolate koalas.
While we were there we read our books and drank a hot chocolate that my mum had bought us.
Here are some photos to show you what it looks like…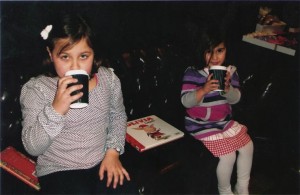 Matteus S in 3BY.
Thank you for your guest post Matteus.  I can't think of anything better than a combination of books and chocolate!  I'm definitely going to visit The Chocolate Master with my book to read while I'm sampling their scrumptious chocolates.  I wonder who else might be planning a visit after reading your post?