At the moment our students are participating in a Writing Challenge at our school.  I thought 15 year old Ella Watkins might just inspire them!
Ella Watkins

is the author of  
"Henry's Holiday"

and  

"Henry the Goat"

Ella first drew Henry when she was 8 years old in Grade 3 when she had to draw a goat for a poem.  Ella drew Henry again at home for her parents and slowly Henry began to develop a life of his own in her lively water colour  illustrations.  
Ella became an author at the age of 13 when she brought Henry to life in his first book "Henry's Holiday" and now she has written "Henry the Goat".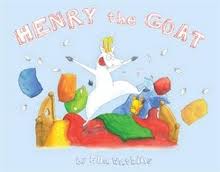 Ella describes Henry
Henry is no ordinary goat. You have never met a more enthusiastic, positive goat. He has grand ideas and plans and a great confidence to attempt anything he can think of…..

Henry lives an ordinary life but with the help of his imagination, a simple walk to the corner store can become an adventure. He passes most of his time with his two best friends Rufus and Oscar.
Ella has even more adventures planned for Henry.  Find out more at Henry the Goat's website