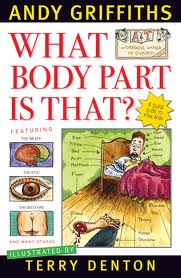 Andy Griffiths and Terry Denton are back having lots of fun with their latest book called What Body part is That?  Don't expect a normal every day information book from these two masters of humour.  Andy Griffiths' website has this to say about the book…
There is a lot of nonsense written about the human body, and this book is no exception.

In its 68 fully illustrated, 100 per cent fact-free chapters, 'What Body Part is That?' will explain everything you ever needed to know about your body without the boring technical jargon and scientific accuracy that normally clog up the pages of books of this type.

Never again will you be stuck for an answer when somebody comes up to you, points to a part of your body and demands to know: 'What Body Part is That?
You have been warned…