The latest book by Graeme Base is The Legend of the Golden Snail.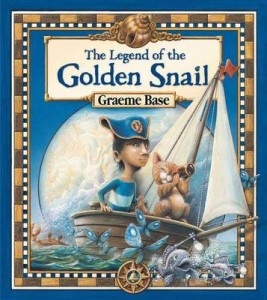 Inspired by the tale of a Magical Golden Snail banished to the Ends of the Earth by a  Grand Enchanter, a young boy named Wilbur sets out on a daring voyage to find a legendary snail and claim it as his own.  Along the way he encounters strange creatures and overcomes many challenges.  Finally he reaches the Ends of the Earth, but what he finds there is not quite as he imagined….
 See if you can find the snail'n'crossbones symbols hidden in every illustration
Watch the book trailer to find out more…
Graeme Base explains how you can use Augmented Reality to sail the Golden Snail for yourself…how cool!!! 
 Go and explore Graeme Base's website and complete the CHALLENGE so you can activate your webcam and sail the Golden Snail for yourself!!