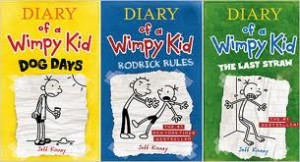 The Diary of a Wimpy Kid series by Jeff Kinney is flying off our bookshelves and the reserve list is growing!!  The Wimpy Kid is Greg Heffley,  a Year 7 student who sees himself as the 52nd or 53rd most popular kid in his year. His life is full of the misery – an older brother who plays tricks on him, a baby brother he sometimes has to look after and a best friend, Rowley who becomes more popular than Greg.
Did you know that this book started out as a web comic funbrain?  Visit the website and read the book online!  You can also visit The Diary of a Wimpy Kid website to find out more about the author, the books or read The Diary of a Wimpy Kid blog.
Twentieth Century Fox is looking for someone to play the role of Greg Heffley for the movie!!  Go to I am the Wimpy Kid to see what attributes the main actor will require.  You can also view some of the audition tapes.  Would you be the perfect Wimpy Kid?
We would love to know what you are enjoying about The Diary of a Wimpy Kid series…