Exciting news!! The Treehouse series by Andy Griffiths and Terry Denton now has its very own interactive website! 
Click on the picture below and have fun exploring…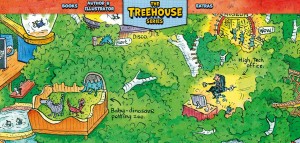 Do you have a favourite part of the website?
Also exciting to see this tweet from Andy about the The 65-Storey treehouse…
It is really interesting to be able to see some of the drawing tools on Terry's desk that he uses for his illustrations. Terry must have a huge collection of pens!