Felice Arena has lots of fans across all year levels at our school who have enjoyed reading his books including Specky Magee, Andy Roid, Stick Dudes and his recent Sporty Kids series. 
This year Felice will take his older readers on a thrilling adventure set in Sicily in World War II with his new historical fiction novel called The Boy and the Spy. As a 'rota', his main character Antonio does not have an easy life in the town where he lives with Mamma Nina. When Antonio encounters a spy who needs his help he is caught up in the world of spies and freedom fighters where courage and quick thinking are required if he is to survive.
Last Wednesday the Year Fives were very lucky to be the first students to hear Felice talk about his new novel. They learned that it was a conversation with his parents about life in Italy before they emigrated to Australia that sparked the idea for The Boy and the Spy. 
Authors use different strategies to help them with their writing and Felice shared two of his. He played some pieces of music he listened to when writing that helped him create the tone of the story. Then he showed us images he used to create a visual story board to help him to visualise and plan his ideas. Authors of historical novels also need to do research to ensure the information in their story is accurate. Some of Felice's research included learning about Morse Code and the students had fun creating some Morse Code with him…in not quite the traditional way! 
Felice then read the first chapter of his novel and you could have heard a pin drop in our library. There is something very special about listening to an author read their own words as they breathe life into their story. The first chapter was very dramatic and left everyone wanting to hear more…a perfect way to introduce your new book to readers!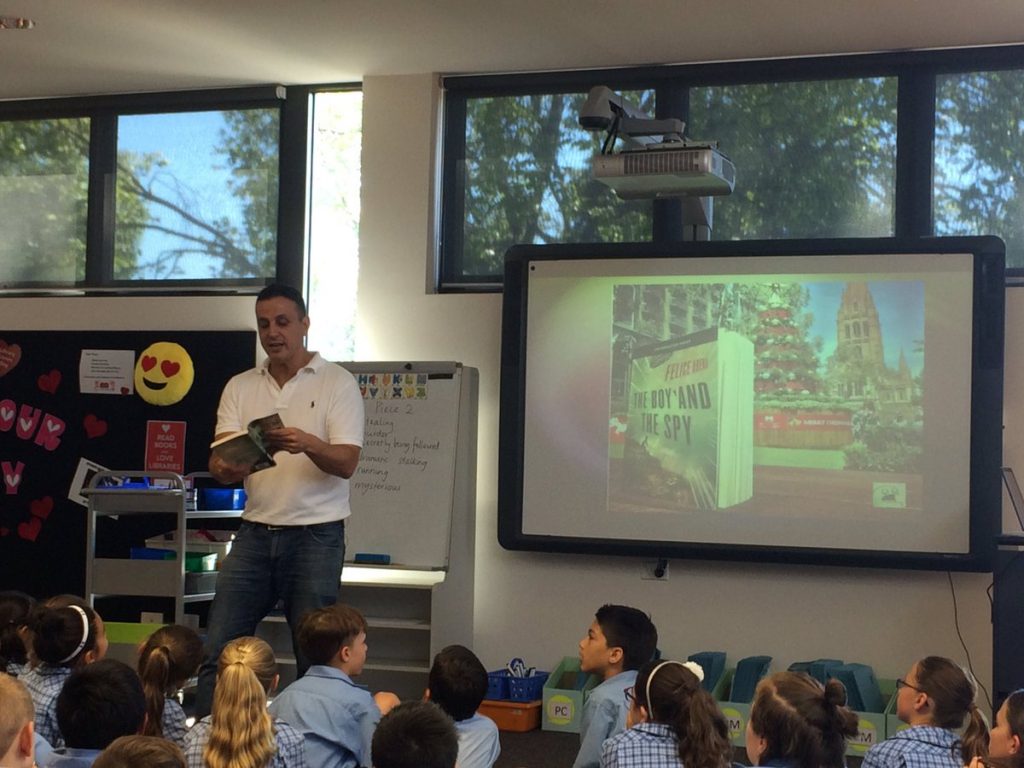 I went home that night and read my copy of The Boy and the Spy and didn't put it down until I had finished it! I'm not going to give too much away except to say…I felt like I was there with Antonio and held my breath as he carried out some of his daring plans to help the spy and hoped he wouldn't be caught; admired the freedom fighters who risked their lives; drooled at the descriptions of the sweet sugary pastries at Pasticceria Antica; shed some tears both happy and sad and loved the way little pieces throughout the story came together like a jigsaw puzzle at the end. Now I hope Felice will also tell Simonetta's story one day just as well as he has written Antonio's. I sent this tweet to Felice…

Thank you for visiting us Felice and enjoy sharing The Boy and the Spy with students across Australia! I know that our students are going to enjoy reading it…