Book Week 2008 – Fuel Your Mind
The Peasant Prince
These are some of the Grade 3 and 4 responses to the Peasant Prince by Li Cunxin. The students were asked to include a picture of Li dancing, a frog, some red and some Chinese newspaper in their artwork.
Create your own video slideshow at animoto.com.
The Night Garden
Grade Twos created their own Night Garden silhouettes based on The Night Garden by Elise Hurst.
Create your own video slideshow at animoto.com.
Fuel Your Mind Hat Parade
To celebrate Book Week this year each child designed their own hat to wear in our Fuel Your Mind Hat Parade to show how they fuel their minds. Some classes designed their hats to reflect their Inquiry topics including healthy eating, the Olympic Games and different cultures. Other classes brainstormed the many ways we fuel our minds with ideas, information and creativity. These are some of our wonderfully creative hats from P-6!!
Book Week 2009 – Book Safari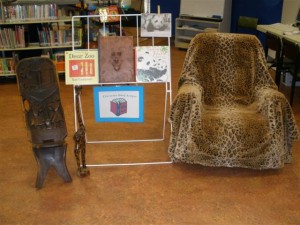 This year we celebrated Book Week in Term 4 because we had to move our LRC. We didn't have a space for our Book Week Parade so we thought outside the square and had an Online Book Safari. 119 students and some of the teachers sent in photos of themselves with books that have taken them on journeys or to wonderful locations. Some students dressed as a book character from their books or had their photos taken in interesting locations. We made this into a Book Safari slideshow on our LRC MyClasses page.
Mrs Collins created wonderful Book Safari displays for our temporary LRC and these are on our LRC Displays page
Below is some of the work students completed in the LRC or with their classroom teachers during Book Week…
As part of their Book Safari, Grade 2ED read A Dog Called Bear by Martine Murray. They used plastic forks to create their dogs and make them look scruffy. 
Create your own video slideshow at animoto.com.
Grade 2ED also used their cutting, pasting and drawing skills to create some colourful lions. Create your own video slideshow at animoto.com.     The Grade 5 and 6 classes read the short-listed book The Big Little Book of Happy Sadness by Colin Thompson. They completed a Six Thinking Hats activity with the book. One of the activities involved creating a new leg for Jeremy.   Under Miss Pitcher's guidance, Grade 6P used different art techniques to create Jeremy. They used pencil shading over a template or painting using a fork. Look closely for some of Jeremy's new leg ideas. Create your own video slideshowat animoto.com.    Grade 1M, 1C and 1/2T enjoyed reading the short-listed book SundayChutney by Aaron Blabey. It took them a few weeks to colour and cut out Sunday and then decide on a holiday destination or activity for Sunday and illustrate it like a photo. You can see some of their work in the slideshare below.
Grade 2D were lucky to work with our talented Reading Recovery Teacher, Mrs Scully (who is VERY creative) to do their artwork. We read the short-listed book Puffling by Margaret Wild in the LRC. Grade 2D cut out the head, body, wings and tail of Puffling and then glued them on a page to create their own Puffling. Then they cover their template with paper and coloured over it with different coloured pencils. you can see their wonderful Puffling creations in the video below. Mrs Scully also did a Book Week art session with some of the teachers…Thanks for sharing your skills and talents with us Mrs Scully!
Create your own video slideshow at animoto.com.
Grade 5S read Colin Thompson's book "The Big Little Book of Happy Sadness" and they used their creative thinking to design a new leg for Jeremy the dog who only had three legs. They have some very creative ideas…
Book Week 2010 – Across the Story Bridge

Story Bridges by Grade 4 and 3M
Mr Chicken goes to Paris by Leigh Hobbs
The Grade Four classes had lots of fun drawing Mr Chicken hanging off The Eiffel Tower!
Schumann the Shoeman
For their Schumann the Shoeman activities Grade 6D discussed what legacy they would like to leave behind at St Martin's. They then created their own unique shoes and recorded their legacy. Grade 3BY used modelling clay to carefully create their Schumann the Shoeman shoes.
Bob Graham – Author/Illustrator Study
Grade 3BP enjoyed reading books by Bob Graham and created their own Bob Graham Story Bridge.
Isabella's Garden
Grade 3BY created their own artwork inspired by Isabella's Garden