I'm a Dirty Dinosaur written by Janeen Brian and illustrated by Ann James is back!  This time he is hungry for cake in his new book I'm a Hungry Dinosaur.
Two of our students were very excited to show me their copy of I'm a Hungry Dinosaur. It had been signed by Ann James who is also their friend.
How lucky they were to have an opportunity to paint pictures with Ann using flour, cocoa, icing and 100s and 1000s just like Ann did to create her illustrations in the book!  Now THAT sounds like fun! (We might have to try it in the LRC!).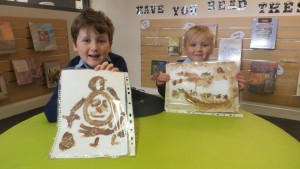 If you love baking and chocolate cake then this might be the perfect book for you (and me!!).