The Children's Book Festival is on Sunday, March 22nd at the State Library and the Wheeler Centre…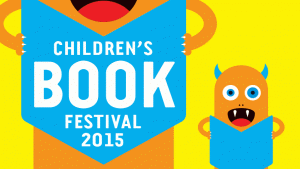 The Children's Book Festival is a fabulous and fun day of celebrating books and reading with your family! Click HERE to find out more and to download the program.
You can meet your favourite authors and illustrators − including Shaun Tan, Gabrielle Wang, Andrew Joyner, Ursula Dubosarsky, Andy Griffiths and Terry Denton and even more authors and illustrators. There are storytellers, musical acts and performers of all sorts to discover. Grab a book from the picnic library and sink into a beanbag. Help create a giant book that will become a memento of the day and drop by the Children's Book Festival Monster Marquee, where you can make your own horns to wear all day long.
Warning – bookings required!
All events are free but bookings are required for Meet the Author and Illustrator sessions with Tristan Bancks, Hazel Edwards, Andy Griffiths and Terry Denton, Oliver Phommavanh, Shaun Tan and Gabrielle Wang. Tickets will be available from Wednesday, March 11th at the Wheeler Centre