Do you know a Reading Super Hero?
Is it someone in your family or even in your class?  
Is it your closest friend, or maybe it could be you?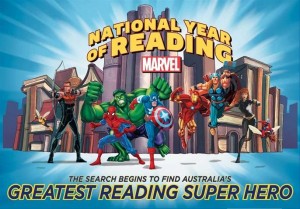 A Reading Super Hero knows the power of reading and reads every day…
To celebrate our National Year of Reading, Scholastic and Marvel are running  a competition to find Australia's Greatest Reading Super Hero and you might like to enter here at Reading Superhero Competition.
Tell them in 25 words or less who your Reading Super Hero is and you could win an  amazing National or State prize!   The most creative and fun answers will win.   The competition ends on August 3rd, 2012.
To get you thinking I've written a little  something…
A Reading Super Hero is
a Teacher-Librarian
Daily reading books with kids
Creating a "Reading Heaven"
 If you decide to enter the competition we would love you to share your entry with us in the Comments section