Last week I had a great time sharing some of my photos and travel adventures with our 21 classes as well as some gifts I brought back for our LRC…
One of our Year One students asked if I would bring back a library pet.  I saw and read about lots of dragons while I was away including the evil Wawel Dragon.  We now have our own LRC Dragon from Krakow, Poland, but I made sure it was a friendly dragon!
Many of our students have heard the story of Dewey the Library Cat.  We would love our own LRC cat or dog, but that's not possible.  So I thought this gorgeous book mark I found in a wonderful children's bookshop in Budapest would make a great cat for our LRC!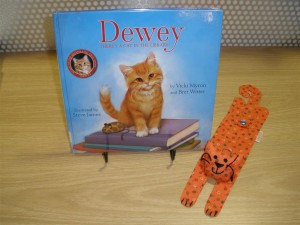 I couldn't go away without buying a book for the LRC.  I chose a book from Slovenia that has three folk tales about the dragon of Ljubljana, Lake Bled and the Julian Alps.  I'm sure we will enjoy reading them over the coming weeks. 
Everyone at our school knows that I am a huge supporter of North Melbourne in the AFL.  Imagine my amazement when I discovered a North Melbourne Babushka Doll in Prague!!  Of course I had to buy one!  
It's now proudly sitting with all of my North Melbourne paraphernalia on the Circulation Desk in the LRC.  Much to the delight of the other North Melbourne supporters at our school…